The carbon footprint of luxury packaging is an indicator that measures the pollution caused by the manufacture, transport, use and end of life of product packaging. Reducing it therefore means helping to reduce the environmental impact. An urgent subject, but one that is not always easy for brands to grasp. Here are some explanations.
A necessity, but also complex technical issues for luxury brands
There is no doubt that luxury brands need to adapt their manufacturing processes to become more sustainable and environmentally friendly. However, this work can sometimes take years of research, both on materials and on the processes used. These efforts, which are laudable and useful, are referred to as the "policy of small steps", but they require major industrial and logistical efforts.
While luxury packaging is distinguished by its rarity and prestige, expressed in the quality and multiplicity of its compositions, the fineness of its textures, the oversize of its volumes, surfaces and thicknesses, it must also adapt to new needs. Louis Vuitton's packaging is made of FSC (Forest Stewardship Council) certified virgin and recycled paper pulp, and the felt covers that protect the products are made of BCI (Better Cotton Initiative) certified cotton. This programme aims to transform the cotton industry worldwide, both environmentally and socially. At the same time, the brand is investing in activities to reduce its energy consumption. Thus, the opening or renovation of shops has been an opportunity to deploy LED lighting or to improve the performance of heating and air conditioning systems.
In the world of cosmetics, another obvious example is the lipstick tube: for every 3 to 4 grams of usable product, the packaging typically weighs 20 to 35 grams, or 7 to 10 times more packaging than product. At the end of its relatively short life, the user gets rid of a sophisticated object, made of plastic, metal, careful finishing, glue, lubricant, and sometimes magnets (containing rare earths, which are limited and very polluting). And it would be unrealistic to imagine sorting these materials into their own recycling channels – which do not always exist.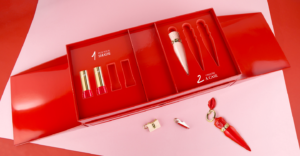 The solution lies in the creation of luxurious, customisable cases that are kept by customers, inside which the lipstick can be refilled at will. This means less material to be thrown away, more responsible consumption, and a paradigm shift for brands like Hermès, Dior or Carolina Herrera.
Best practices to reduce the carbon footprint of luxury packaging
Nowadays, designing eco-responsible packaging requires thinking first and foremost about its integration into the circular economy. It is a subject that concerns the entire value chain of luxury packaging from a holistic point of view, from the supply chain to the choice of materials and the location of production and distribution sites.
Packaging life cycle analysis
Life Cycle Assessment (or LCA) is a step-by-step evaluation method used to design more environmentally friendly products. It can be seen as an in-depth audit of all the flows and impacts around the production of the packaging from A to Z. This includes all stages of the life cycle, from the extraction of raw materials to manufacturing, but also distribution, use, collection and disposal to end-of-life channels and all transport phases. This work is intended to be exhaustive in order to know the impacts generated on the environment.
To find out more, discover everything you need to know about luxury packaging and its new trends.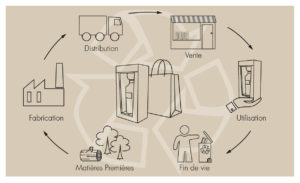 The birth of packaging: extraction or production and transport of raw materials, production, transport and assembly of the different components, packaging, transport of finished packaging and distribution.
The use of the packaging: transport, unpacking, preparation and use.
The end-of-life of the packaging: collection, transport, recovery (recycling) and/or disposal.
Each stage therefore represents a carbon footprint which adds to the total amount of CO2 generated by the packaging in question. LCA thus allows us to take a snapshot at a given moment in order to determine the points of improvement and to compare the progress made over time.
Reduce packaging volume
Resources, and therefore CO2, can be saved by carefully considering the dimensions of the packaging, as well as the weight of the materials. When designing the packaging, the size of the cardboard container and the weight of the folding box materials are analysed in order to optimise the available space without hindering the basic elements that provide information and protect the product. In this way, product-specific packaging not only reduces the carbon footprint of the packaging, but also the production and transport costs.
Choose sustainable and certified raw materials
The most common materials used in packaging are plastic, paper and cardboard. According to a study by the Center for International Environmental Law (CIEL), the manufacture of one kilo of plastic emits 3.5 kg of CO2 into the atmosphere, adding to the problem of its slow degradation. Paper and cardboard, on the other hand, can have a reduced or even neutral carbon footprint if they are produced in an environmentally friendly way. In this sense, FSC and PEFC certificates guarantee that the extraction of wood and derived raw materials respects sustainable management criteria throughout the supply chain. Opting for certified raw materials helps to reduce the carbon footprint of packaging, as it highlights suppliers who respect the environment. Let's not forget that deforestation is the second largest cause of greenhouse gas emissions into the atmosphere.
Prefer suppliers who are committed to the environment
Verification bodies issue certifications and validate the environmental commitment of companies. By working with committed suppliers and service providers, your luxury brand is making a clear choice in favour of the environment. Among the labels to look out for is the European Ecolabel. This is a label that attests to the environmental qualities of a product that meets the ISO 14024 standard. This label respects very precise requirements that take into account the environmental impacts of products throughout their life cycle.
There are also all the standards in the ISO 14001 series, which provide a framework that companies can use to establish an effective environmental management system. To implement it, it is essential to maintain procedures to regularly monitor and measure key features of its operations that may have a significant environmental impact.
Reorganise logistics flows
Imagine a French luxury brand whose packaging is made of cardboard and bamboo. The cardboard comes from German trees and the bamboo from South Korean forests. They are then sent to China for the manufacture of the packaging before being sent to Poland for engraving and printing, and then to a French warehouse for distribution. By reorganizing, simplifying and grouping logistics flows, it is possible to considerably reduce the carbon footprint of packaging. This is known as nearshoring to bring a production site closer to its market or omnishoring to diversify relocation to different locations. Instead of having all its factories in one country, the value chain will be brought closer together, but in different countries and with different forms that intervene at all stages of the manufacturing life cycle.
Optimising transport
Transport plays an important role in CO2 emissions. While it is not yet possible to do without it, luxury brands need to ensure that containers are filled to the maximum extent possible so that they do not carry empty containers. Flat-pack deliveries reduce the amount of packaging space. They are practical solutions that optimise logistics and save money and carbon. They are increasingly in demand for their space-saving qualities, while being as strong and protective as an assembled box.
At the same time, the use of less polluting means of transport, such as rail, also impacts on the carbon footprint. According to the Ademe (French Environment and Energy Management Agency) carbon base, the emission factor for an average rail freight journey is 0.053 kgCO2eq/tonne.km, compared with 2.968 for a medium-haul flight and 3.07 for an average road journey.
In this ecosystem, which brings together consumers, design agencies, manufacturers, luxury brands, partners, suppliers, transporters and subcontractors, it is essential to measure each action to determine the right performance indicators in order to take the right actions to steer one's sustainable development strategy applied to luxury packaging.