77%.
This is the proportion of consumers who say they are ready to turn away from a brand if it is unable to respond to ecological and sustainable issues, according to the Citeo Shopper Luxe study. Knowing whether to combine luxury, aesthetics and ecology is therefore not a question in itself, it is an obligation. And to achieve this, solutions exist.
Working with environmentally responsible and aesthetic materials
To be sustainable and eco-responsible, packaging must be created with materials that can be recycled, recyclable or biodegradable, and that do not alter the premium aspect sought, in a world specific to luxury. The aim is to limit the impact of packaging on the product's life cycle. This approach involves a drastic reduction in over-packaging and the replacement of traditional materials with eco-responsible options, notably using vegetable-based inks, such as:
Biodegradable cardboard.
Cornstarch-based packaging.
Bagasse, which is the residue of sugar cane crushed once the juice has been extracted. It is used, among other things, to make disposable insulating containers to replace polystyrene foam.
Reed fiber, which comes from a plant that grows quickly and does not compete with food crops
In the world of cosmetics, the French giant L'Oréal turned a corner in the mid-2000s. At that time, plastic accounted for 60% of the materials used to produce the group's packaging. L'Oréal increased the number of renewable materials used in the design of containers, such as bio-based plastics made from wheat, corn, beet, sugar cane or potatoes. At the same time, the brand has also changed some of its packaging, as shown by the development of the first cardboard-based packaging.
Investing in research and development
While materials are important, so are manufacturing techniques. R&D, innovation, luxury and aesthetics are intrinsically linked. Luxury brands should not only follow the trend, but act as a forerunner in terms of innovation, because the ecological issue concerns all organisations. All brands are changing their practices and luxury brands must take the lead on these issues.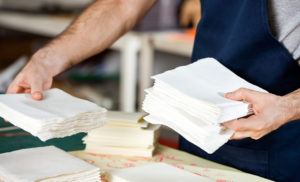 Ruinart Champagne has transformed its packaging with the creation of a moulded shell that required two years of research and development. This innovation, which aims to replace existing boxes, will profoundly transform the premium packaging market. It is eco-designed, contains no plastic, is 100% recyclable and is nine times lighter than its predecessor. It's an innovation that has generated a lot of media and social attention. A perfect example where the evolution of packaging serves the reputation of the product, which has not changed.
The issue of eco-responsibility is crucial in the luxury sector. At a time when the issue has never been more important, luxury brands have a role to play in leading the change and reassuring the market. It is both a question of ethics and CSR, but also a way of affirming a differentiating positioning for a strong and sustainable brand image.